Why Wherrelz?
Some simple things that turn a simple IT Solutions company into a fun employer.
Our razor sharp objective focus is completion of work on schedule, and best possible client experience imaginable - so we can flex some things for you...
Flexibility of Timing: You can work 9 AM to 5 PM or 9 PM to 5 AM - as long as work's getting done, and the client's kept happy, we're cool!
Flexibility of Clothing: You can pretty much wear anything, as long as you look a "corporate" presentable. Shorts, mini-skirts, bikinis etc - basically clothing that would make our client feel uncomfortable - are usually not "corporate" presentable so we would recommend avoiding these.
Flexibility of Work place: Our landscaped office includes Recliners, Garden/Lawn chairs, Fire-side armchairs (in winters), Ergonomic chairs...
You choose. Remember it's first come first, so no complaining if you're not quick enough to grab the most comfy chair around
Flexibility of Location: Not happy with the landscaped office? Well you can work from home, too. All home assignments require a standard online capability so you want to be sure this is available if you're planning to work from home. And yes, we trust you will not use this time as a "holiday".
Flexibility of Food: We arrange daily buffet style breakfast, lunch, tea/snacks and dinner. Calorie control is in your hands, but we will make sure everything is available to you in fair amount. You're of course free to get food from home or use the office kitchenette to whip up a snack, and our pantry manager will be happy to help you.
Parties: All parties are target oriented, but not 'target limited'!! Whether it's a small goal or a big one you've achieved, our client says "I'm happy" and we say "Lets PARTY!". Disclaimer: Expect cakes, chips, drinks to be aligned with the target achiever's choice, not necessarily yours.
---
We make you more innovative!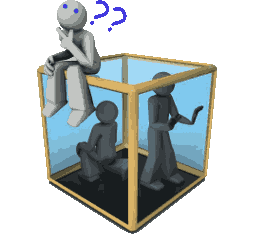 Can you think outside the box? Maybe you're saying "yes", or maybe you're saying "not yet" - but we will re-program you to guarantee 100% out-of-the-box thinking.

You may have felt you were not innovative enough, but we felt you had the capability and potential to have you join us... Remember "Innovative" is a relative term, and subject to change over time. Introspect every fortnight and say hello to a more creative, more innovative "you".
We give you a chance to work with the best!
Our client base includes the world's top 20% wealthiest individuals, people who have earned their billions - probably - before you were born. These are leaders, managers, researchers - people who think different and want to work with the best for their technology needs.
(think: Wherrelz could they go?)

Our corporate clients include large companies with an annual turnover in the billions. Each has a unique way of thinking, of working, of delivering value to their client universe - and we are here to ensure their clients think the best of them. Plain and simple!
I must be a genius because I scored 99.3141592653% I deserve to work here!
And we say: Bugger off. Your scores mean nothing (unless you failed every exam you appeared for - in which case it means a lot) to us, because we're not looking for people who can manufacture a pretty scorecard.

Our evaluation process is pretty strict - we need you to score a certain level in intelligence quotient (IQ) without which your chances of joining us diminish rapidly. If you've scored 140 or above in the Gigi Pro Certified IQ test - we can talk about opportunities for you.
Career guidance and Self improvement support
In addition to everything else, we insist everyone spends 10% of their time weekly, working on a personal progression project. Now we don't want you to just spend thost extra 5 hours lazing around doing nothing, so you are expected to discuss your project with us, and we will guide you toward its achievement.

Naturally you may not want to work with us forever - we understand that. But what do you want to do next? Are you thinking startup? Are you thinking a Fortune 500 company? Of course nobody wants to stagnate, and everyone wants career guidance to help them grow in life. We will ensure you have more than enough opportunities to grow towards your next calling when you feel you have the need for it. Unlike most other organizations, our core team will spend time with each employee on a quarterly basis to ensure your professional and personal goals are being met.
Salaries
All our head-hunted employees to date have been paid cash-in-hand of approximately 70% more than their last company. Freshers hired directly from campus interviews start with us at about 3 times the regular market rate. We know how to treat our people, and we support them through their career.
---
Interested?
Scroll down to our "Contact Us" section and send in your CV. We'll call you back for the interview and shortlisting.